Concert Applications for 2017 now open!
Concert Applications for 2017 now open!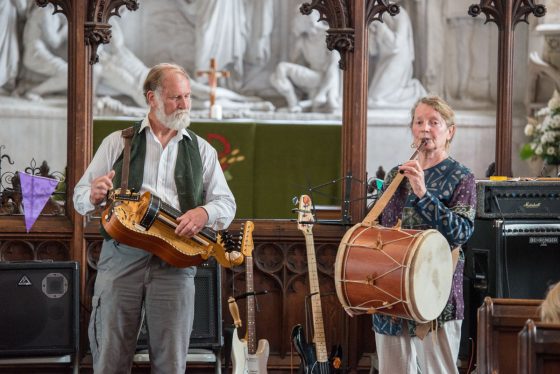 As of 10th March 2017 Applications are now closed.
Mitcheldean Folk Festival Concerts are entry-free and will showcase local and visiting acts and provide opportunities to perform and promote music (all types), songs, and dances. As part of the 2017 festival there will be two showcase musical concerts:
Concert 1: Saturday 3rd June from 7:00pm to 11:00pm at The Brewery Tap
Concert 2: Saturday 15th July from 1:00pm to 9:00pm at Mitcheldean Church
Note that while we are unable to pay performers we hope to record all performances where possible and will make the recording of your performance available to you after the event.
A P.A. system will be provided and acts will be allocated slots of 30 minutes each. To ensure we run to time please factor in set up time and plan your set accordingly. (Note: That applicants cannot be guaranteed a specific slot in the programme but we will try to accommodate your requirements as far as possible.)
If you are interested in taking part in one or both of these concerts please supply the information requested below by e-mail to concerts@mitcheldeanfestival.fod.uk no later than Thursday 16th February.
The name of your act
A short description of what the act does (style of music or dance)
Your name and contact details
The number of performers in your act
The instruments (if any) that they play
Which concert(s) you would like to perform at
Whether you have any preference on the time of your performance (earlier or later)
Your amplification requirements (number of mics and DIs)
Any other specific requirements you may have
We will contact you in March to confirm the details of your performance.
There will also opportunities for busking at designated locations in and around Mitcheldean from 11:00am to 4:00pm on Saturday 15th July and you are welcome to come and busk whether your application to perform at the concert is successful or not.