Looking back at the Folk Festival 2014
Despite the Saturday thunderstorms, the first Mitcheldean Fete & Folk Festival was great fun, with grateful thanks to everyone involved!
Much credit goes to the visiting Morris dancers who dodged the showers to perform indoors and outdoors at various locations.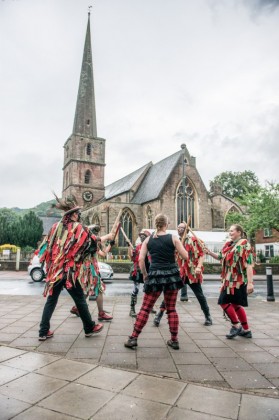 While the rain washed out events on the playing field, the musical entertainment including country dancing from the primary school was successfully moved to the parish church, and the Morris brought colour to the stallholders in the community centre, with home-made refreshments from the WI.
The poetry recital in the library was a great success, with 25 local poets reading their work during the afternoon, and the evening entertainments — concert in the Brewery Tap, music session in the White Horse and barn dance in the community centre — all went very well too.
The weekend was rounded off by a Sunday "folk walk" round the pubs of Mitcheldean and Longhope, with singing at every one!
A selection of photographss helps to tell the tale, courtesy of our festival photographer Eden Tanner, and we're already planning the second festival for next 2015.