…and we walked in Fields of Gold
…and we walked in Fields of Gold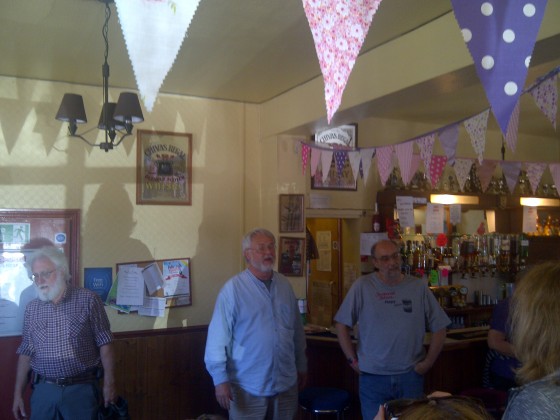 The last part of this year's Folk Festival was the Folk Walk. Starting with breakfast in the White Horse, the group set off for the first short leg to the Lamb Inn. The theme for songs here was animals and we were joined by two dogs and a puppy in the beer garden, two of the dogs and their owners continuing on the full walk.
Lunch was at the Yew Tree, Longhope with some enjoying a Sunday roast from the carvery and others taking the lighter option of sandwiches. Faith and the Forest was the theme here, with the Yew Tree being a common sight in churchyards.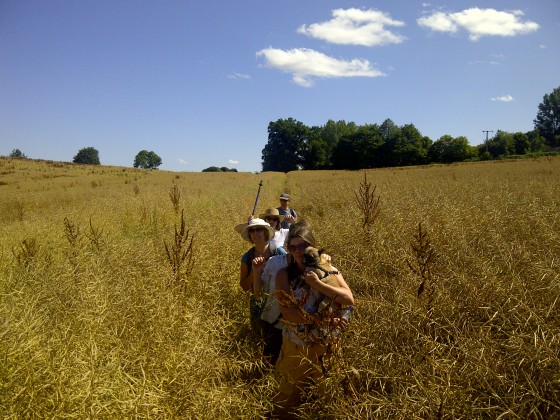 At the Box Bush end of Longhope the bar in the Nag's Head was already home to some live music by two locals on electric guitar and vocals so the party retired to the new decking in the rear garden and found a cosy space around the sides of a bouncy castle, with songs on the theme of horses.
After a short walk to the Farmer's Boy Inn , which featured a second bouncy castle, the group took shelter from the sun under some large table umbrellas (or parasols?)  and enjoyed songs on the theme of farming before a traditional group photograph in front of the horse mural on the side of the pub. Many also took advantage of the ice cream bar before departing.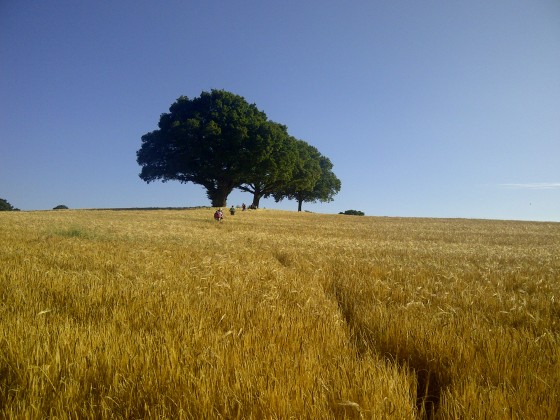 The return to Mitcheldean passed through fields of barley and herds of cattle. Wild camomile was growing at the edge of one field, and the cherry trees along Bradley Court Road provided a welcome snack for those who could reach! Relaxing albeit briefly back at the White Horse, it was soon time for our American visitors from Renegade Rose Morris to retire to their lodgings at the Oakraven Centre, with many of the survivors joining them for a chilled out evening of good food, good company and music.
A big thank you to everyone who walked, sang, played, danced, watched, listened, and to all our helpers both front of house and behind the scenes. See you next year!