Press Release 2014
Press Release 2014
Folk fans around the Forest of Dean can look forward to a fun-filled feast of music, poetry and dance as the first Mitcheldean Fete and Folk Festival comes to the town.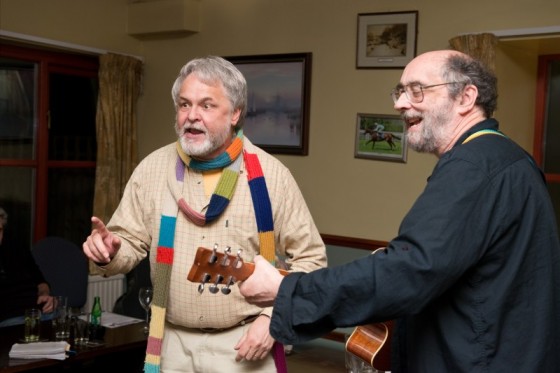 The 3-day event starts on Friday 18th July with an informal acoustic session at the Bespoke Brewery Tap. Musicians and singers can simply turn up and play, sing or just listen whilst enjoying some of the award-winning ales which are brewed on the premises.
Saturday will see a traditional "village fete" on the playing fields and at the adjacent Community Centre, which will be opened at 12 noon by a lucky local schoolgirl who will be picked for the role of Fete Queen. Local and visiting musicians will be performing throughout the fete whilst visitors can enjoy a range of entertainments, stalls and refreshments.
Mitcheldean Library will be hosting a poetry event with readings from "Forest Bard" Dave Harvey and tributes to the poets of World War I. Local singer-songwriter Clint Mann will be running a guitar workshop in the Community Centre — suitable for all skill levels — but don't forget to bring your guitar!
There will also be fun activities and games for children at the Parish Church from 10am until 12 noon. Morris dancing by a number of local and visiting Morris sides will take place throughout the day from 11am. Free parking will be available at the Mitcheldean Enterprise Workshops (MEWs).
Saturday evening will give music fans a choice of venues: the Brewery Tap will be hosting an evening concert with a showcase of music and singing by a variety of groups and solo acts; a barn dance will be taking place in the Community Centre with tickets costing £5 for adults and £2.50 for concessions; the White Horse pub in High Street will have an informal session for musicians, singers and poets.
Sunday's "folk walk" starts at 10am with breakfast at the White Horse, and will set off at 12 noon to visit 5 local pubs with a musical theme for each one. The route will be around 5 miles and is suitable for anyone who can get over a stile. Dogs are welcome but may have to stay outside at some venues.
For more details and to download a copy of the programme, please visit http://www.mitcheldeanfestival.fod.uk
ENDS
---
Notes for Editors
Many residents refer to Mitcheldean as a village, although technically it is a small town, having a Town Hall and signs giving directions to the "town centre".
This is the first of what is hoped to be an annual event. It is organised by members of Mitcheldean Folk Club, Mitcheldean Parish Council, The Women's Institute, Forest Gate Church, and individual volunteers who live locally.
Mitcheldean Folk Club meets on the second Thursday of every month at the White Horse pub in High Street. New members are always welcome.
Contacts for further information or a press interview:
Other contact details and further information on the website at http://www.mitcheldeanfestival.fod.uk